Wood-oven trail, stop #4: Close encounters in Tbilisi
Wood ovens are everywhere in Tbilisi. Everyone said so, from former residents to the owner of our guesthouse to the Tourist Information Center staff. Everywhere, everywhere, just go to any bakery!
As you may have guessed, a story that starts out so optimistically may actually be headed for something else. We did indeed find lots of bakeries. Lots of ovens. Warm and welcoming bakers who invited us in and showed us around. Only they're not wood-fired, they're gas-fired. Even the oven that the information center staff told us about, guaranteed to be wood-fired, was gas-fired.
But though they're not wood-fired, the ovens are still quite interesting. They're called tendir, and are related to Indian tandoor ovens. A tendir is larger than a tandoor and proportionally shorter, with a much bigger opening at the top. As with a tandoor, the heat source is at the bottom and the bread is stuck to the side.
The first place I found is just off Tavusuplebi Moedani (oddly labeled Freedom Square on city maps but not known by that name to any Georgian we met). It has two windows fronting onto the sidewalk; no door, no seats, just two walk-up windows and a "bakery" sign in the eerily beautiful Georgian script.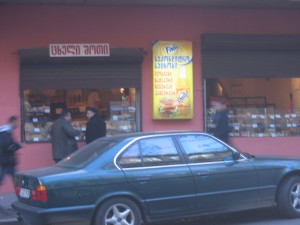 The baker puts the dough on a cushion and slaps it against the inner wall. After four or five minutes the bread is speared with a long-handled hook and, if recalcitrant, pried loose with a long-handled spatula. The breads are a foot and a half long, so you can see that the oven's quite big.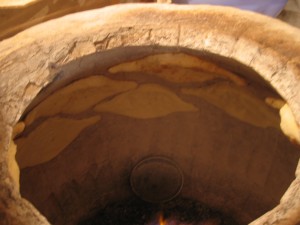 Nino's hole-in-the-wall bakery was even smaller. We met her on our first day in Tbilisi. She marched up because we had a map out and demanded to know what we were looking for. In fifteen minutes she showed us enough Tbilisi to occupy us for days and then disappeared to study for her finals.
Nino's bakery, as we came to call it, is literally a two- or three-foot hole in the wall. No glass, no display case, not even a shelf; just a stream of people coming for bread.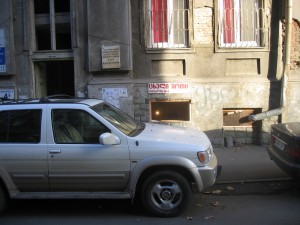 Inside the window is the smallest bakery I've ever seen. It's mostly on the basement level so the window, from the baker's perspective, is way up the wall. It gives his bread an Alice-in-Wonderland feel, as you peer through the little window into his underground realm.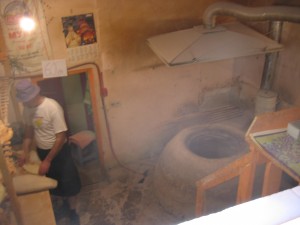 The ovens are large enough for many breads at a time. This baker is practically diving into the oven to fit in as many breads as possible, in preparation for the afternoon rush of people on the way home to dinner.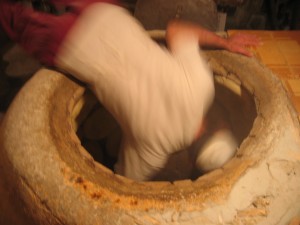 There's no diving required for taking the breads out; he has long-handled tools for removing them.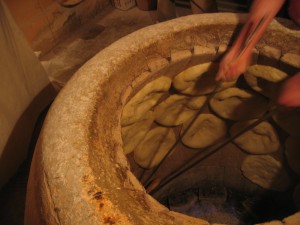 Generally the ovens are kept warm, with a low flame. But the flame can be turned up quite high when needed, such as first thing in the morning. Presumably, at times like this, there is no diving in.